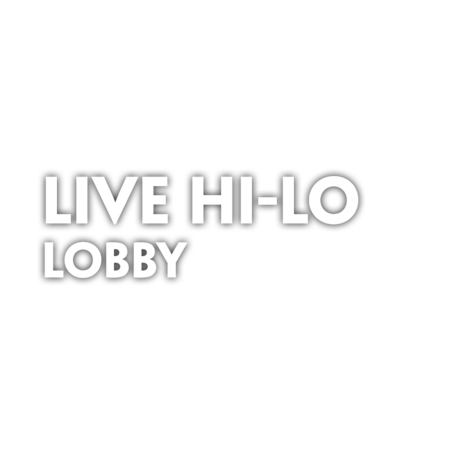 Play Online Live Hi-Lo
Take a simple premise and add in some cutting-edge technology and you've got live Hi-Lo. Arguably one of the least complex casino games we offer, live Hi-Lo is the perfect way for casual players and newbies to experience the wonders of interactive gaming without having to learn a myriad of tricky rules. Because we work with the best dealers in the business and put them alongside Playtech's live casino software, you're always guaranteed an entertaining experience. Whether you love chatting with our team or you hanker for a simple but effective interface, live Hi-Lo at Paddy Power Casino will leave you smiling and satisfied.
Paddy Power Casino Live Hi-Lo
At the lowest stakes, Paddy Power Casino live Hi-Lo can be played from a mere £/€1. If that's not enough to pique your interest, we've set our max stake at £/€1,000. However many chips you put down, you'll be able to pick up returns topping 12X your wager. For simple higher or lower bets, you can win prizes hovering around the even money mark. However, in an effort to make our live Hi-Lo tables even more lucrative, we allow you to bet on everything from a match to the specific suit of the next card dealt. When you take advantage of this enhanced options, you'll be able to pick up wins topping a staggering £/€12,000.
Why Live Hi-Lo is Best at Paddy Power Casino
Playing live Hi-Lo at Paddy Power Casino isn't just about simple and direct gameplay. Thanks to the following in-game features, you'll be able to enjoy a more efficient, entertaining and immersive experience via your desktop and mobile device:
Game guide so you always know what your options are
Game history and trends to help you refine your bets
In-game chat box that allows you to interact and have fun with those around you
Live Hi-Lo Tables at Paddy Power Casino
Our live Hi-Lo games run throughout the day and night. Because we want to stick with the game's main ethos of simple and direct gameplay, you'll find a single option that's designed to suit all players. Whether you're a recreational player or a high roller, this game has everything you need and more. Become a Paddy Power Casino players and get instant access to the best live dealer Hi-lo games in the industry.
If you're not a fan of Hi Lo, why don't you try Wild Gambler?